It's important to know when purchasing property in Tennesse how you will take title, whether you are married, single or joint tenants. If you need help figuring this out, then call a title company or your Realtor can help you with this and usually has a preferred title company they can recommend you to. You really need to make sure just in case something happened to you to whom the property will convey ownership to.
Types of Ownership in Tennessee that you need to know when buying property!
Tenants by the Entirety in Tennessee
This is a form of ownership specifically created for married couples. In Tennessee, spouses may own property by the entirety, which functions like a joint tenancy in that the surviving spouse will immediately take ownership of the property upon the death of the other spouse. Unless expressly stated otherwise in the deed. Tennessee presumes spouses intended to hold property in a tenancy by the entirety if no other tenancy is designated on the deed.
Joint Tenants with Right of Survivorship in Tennessee
Tennessee recognizes joint tenancy with right of survivorship as a common form of joint ownership for non-spouses. This form allows multiple people or entities to own a title interest to the property, and comes with various rights and responsibilities. In particular, joint tenancies with right of survivorship involve all parties having equal ownership and the right to assume another owner's interest in the event the other owner dies.
Tenants in Common in Tennessee
Tennessee also recognizes tenancy in common as a form of co-ownership for non-spouses. Tenancy in common allows multiple owners to own title in a property, but rather than owning equally, the owners can set varying ownership percentages. For example, one owner could own 49% of the property, with the other owning 51%. Additionally, an owner's share would pass to the owner's heirs upon death, rather than passing to the other tenants in common.
I'm not an expert in title, but I know enough to help answer questions my clients may have. I have a wonderful title company that I trust let handle all of those details for my clients.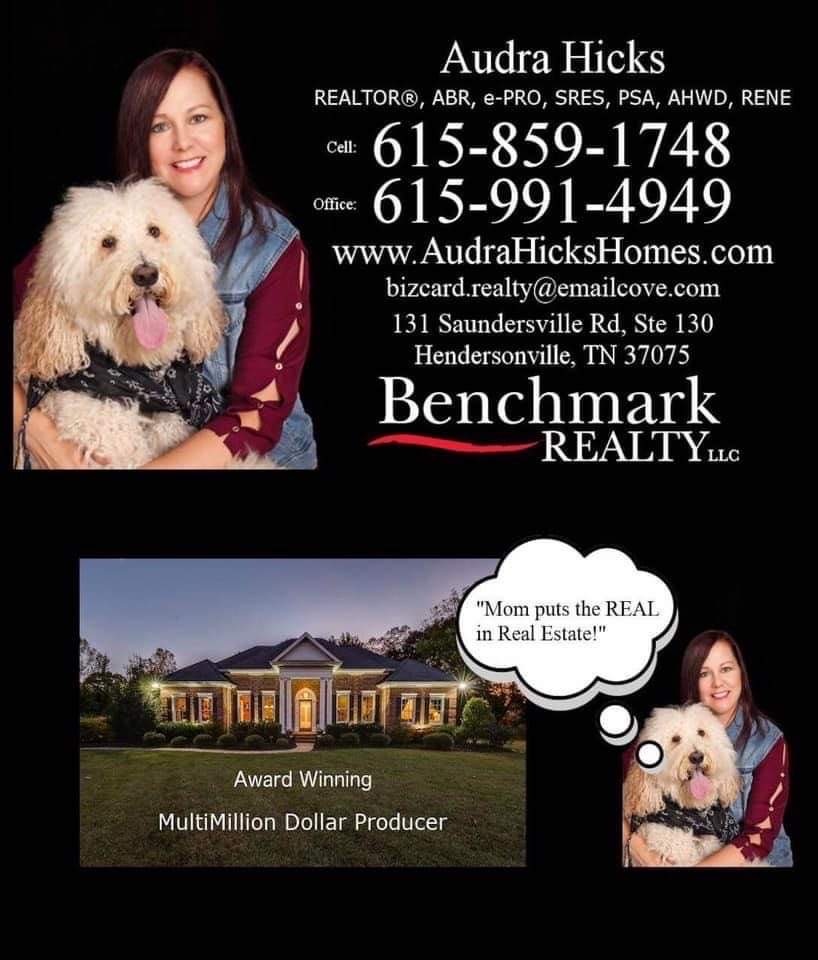 Written by:
Audra Hicks ~ REALTOR, ABR, e-PRO, SRES, PSA, AHWD, RENE, HFR
Stewie says, "Mom puts the REAL in Real Estate!"
2021, 2022 Ambassador - Bluegrass Yacht & Country Club
2021 President - Women's Council of REALTORS - Sumner County

2020 President Elect - Women's Council of REALTORS - Sumner County
2020 Professional Development Committee Member - Sumner Association of REALTORS
2019 Hospitality Committee Member - Women's Council of REALTORS - Sumner County
2019 Education Committee Member - Sumner Association of REALTORS
Multimillion Dollar Producer
Platinum Award Winner - Sumner Association of REALTORS
Benchmark Realty, LLC
131 Saundersville Rd, Ste 130
Hendersonville, TN 37075
Cell - 615-859-1748
Office - 615-991-4949
#land #luxurylisting #homesearch #realestate #realtor #realtorlife #realestateagent #realtoring #realtorsofinstagram #listingagent #buyahome #realtorlifestyle #yourrealtor #homebuyers #homebuying #buyingahome #realestatelife #sellersagent #buyersagent #dreamhome #houseforsale #justlisted #forsale #dreamhomes #homesofinstagram #sumnercountytn #listing #relocation #buyingahouse #homebuyers #realtorsofinstagram #househunting #bebetterbebenchmark #homeforsale #listing #landforsale