If you are wanting to eat out for dinner in Hendersonville, TN then you have some amazing choices. Some just local eateries, mom and pop places, diners and the chain restaurants. All can be great choices so its just what your family is in the mood for! Our family is a member of Bluegrass Yacht and Country Club in Hendersonville so you will see us there dining at the "Hicks Booth" quite often, but we do love to venture out and enjoy other places too!
The Chop House - This is in front of Walmart down Indian Lake, located at 200 Anderson Ln N, Hendersonville, TN! We love the great food, which is usually always consistent and service is top notch. If you ever have any issues we love that management always makes it right and cares. You don't get that everywhere these days. My family loves the choices we have on the menu, since we only eat veggies, chicken, fish and seafood.
Demos Restaurant - This place has been here for a long time and Peter Demos is the owner. I believe he has several locations too. There are so many items to chose from on the menu and people love their sweet tea! Great place to go for chicken and shrimp pasta.....yummy! They are located at 161 Indian Lake Blvd, Hendersonville, TN.
The Lost Cajun - Located at 206A N Anderson Ln, Hendersonville, TN. You will enjoy American, Cajun & Creole and Seafood too! They are vegetarian friendly and have some vegan & gluten free options as well. Enjoy a Lobster Bisque soup or the Voo Doo Pasta......Who doesn't love some pasta?
Moby Dicky's - Located at 155 Sanders Ferry Rd - This is a local favorite, but parking is not the best! The food will make up for it though. They have a bar and food is American and Seafood.....since they are on the water so you get a view of Old Hickory Lake.
First Watch - Located at 271 Indian Lake Blvd, Suite 140, Hendersonville, TN - This is one of my favorite places to go for bruch or lunch. It is fresh and has so many good for you foods to choose from, but they are open for Breakfast, Lunch and Brunch! If you need to meet someone for a business lunch this is a great place!
Dos Margaritas Bar & Grill - Located at 4 Industrial Park Dr, Hendersonville & there is a location in Gallatin that my family and I like to go to. One of our favorite Mexican food places! Food is usually always good, fresh and service is great too!
Jonathan's Grille - Located at 307 Indian Lake Blvd, Hendersonville, TN - Its fairly new to the area and located beside Sams Club off Indian Lake! They are open late so you can grab food or drinks at the bar!
If you check out this MealInvy App - there are so many pictures and ratings of the restaurants on there! Sign up for Mealinvy today so you can check in to your favorite places, rate servers and food, checkout and keep up with your meals, prices, pictures of food, restaurants and know who your favorite food and server is anywhere you go! We use it all the time!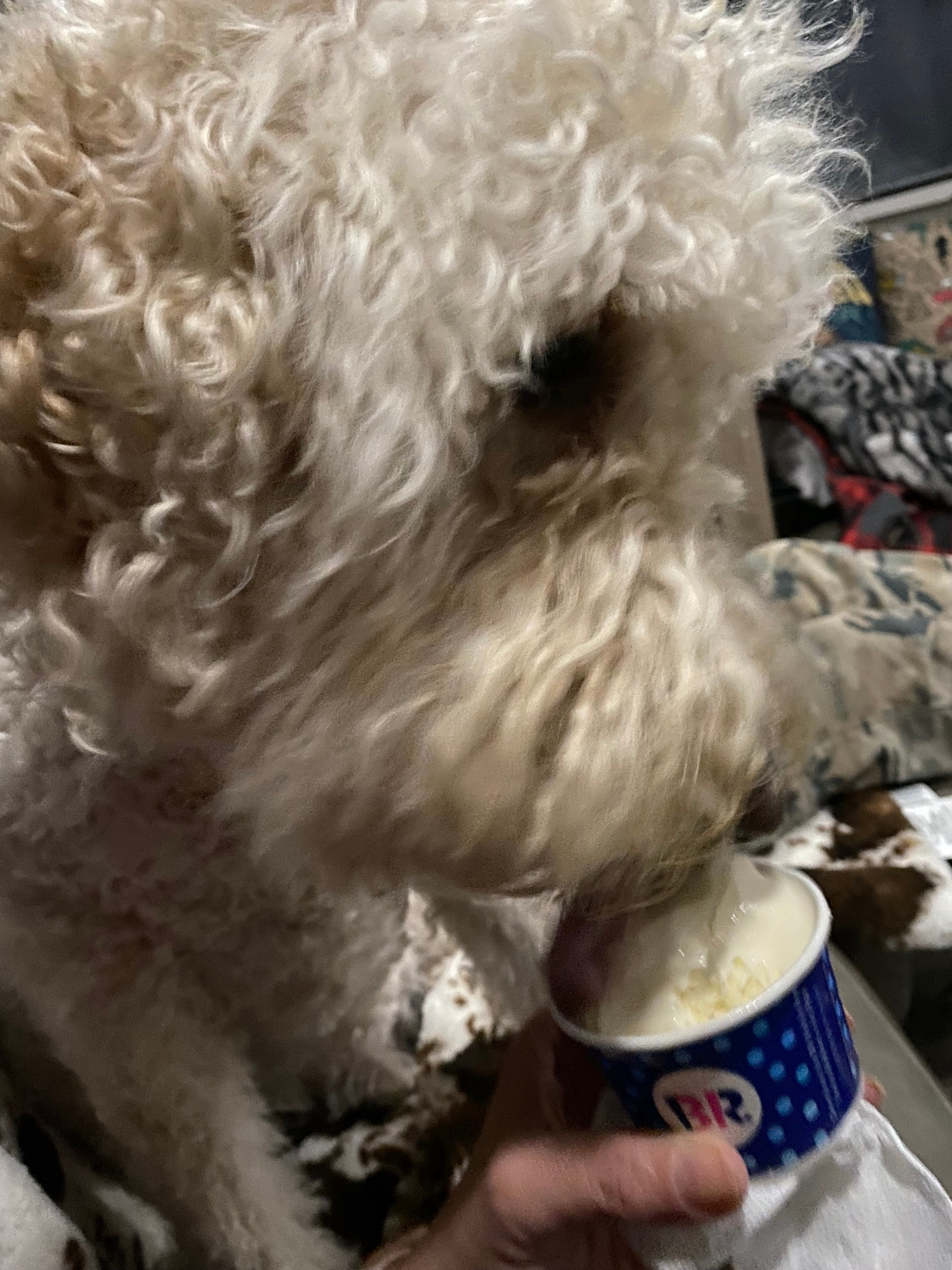 Stewie enjoys a little Pup Cup every now and then, esp when he is on vacation.....lol!
Written by:
Audra Hicks ~ REALTOR, ABR, e-PRO, SRES, PSA, AHWD, RENE, HFR
Stewie says, "Mom puts the REAL in Real Estate!"
2021, 2022 Ambassador - Bluegrass Yacht & Country Club
2021 President - Women's Council of REALTORS - Sumner County

2020 President Elect - Women's Council of REALTORS - Sumner County
2020 Professional Development Committee Member - Sumner Association of REALTORS
2019 Hospitality Committee Member - Women's Council of REALTORS - Sumner County
2019 Education Committee Member - Sumner Association of REALTORS
Multimillion Dollar Producer
Platinum Award Winner - Sumner Association of REALTORS
Benchmark Realty, LLC
131 Saundersville Rd, Ste 130
Hendersonville, TN 37075
Cell - 615-859-1748
Office - 615-991-4949
#land #luxurylisting #homesearch #realestate #realtor #realtorlife #realestateagent #realtoring #realtorsofinstagram #listingagent #buyahome #realtorlifestyle #yourrealtor #homebuyers #homebuying #buyingahome #realestatelife #sellersagent #buyersagent #dreamhome #houseforsale #justlisted #forsale #dreamhomes #homesofinstagram #sumnercountytn #listing #relocation #buyingahouse #homebuyers #realtorsofinstagram #househunting #bebetterbebenchmark #homeforsale #listing #mealinvy #apps