I absolutely love this time of year where the days a cooler and you get to break out the flannel shirts, Ugg Boots of many colors and styles, lol, and shawls. It's a time to enjoy the outdoors and take walks and hikes with your family and fur babies. Yesterday was scortching hot outside, but today the temps are cooler and its breezy outside....a definite 180 from yesterday! The old saying here in Tennesse is we can experience 4 seasons all in one day.....ha, and that's true at different times of the year. My family & I are native Tennesseans and lived here our whole live, we even love to vacation in Tennessee in the Smoky Mountains.
If you are planning on visiting TN, then you need to come here during the Fall because the leaves on the trees are so beautiful to see and the weather is perfect! It's always my favorite time of year and always has been! If you like to camp then is perfect weather for a campfire, roasting marshmellows or sipping hot chocolate. We love to go to the Smoky Mountains and go Glamping with our Travel Trailer!
October is usually a month where people are ready to start shopping for homes and when you start getting ready to pack and go through things then you can have a yard sale and not be burning up....throw on a flannel shirt and sip some hot chocolate or hot apple cider! If you are planning on making the move to relocate to Tennessee, then your first step is to call me........and I can always do virtual showings or meet you when you're in town!
My newest Fall Wreath........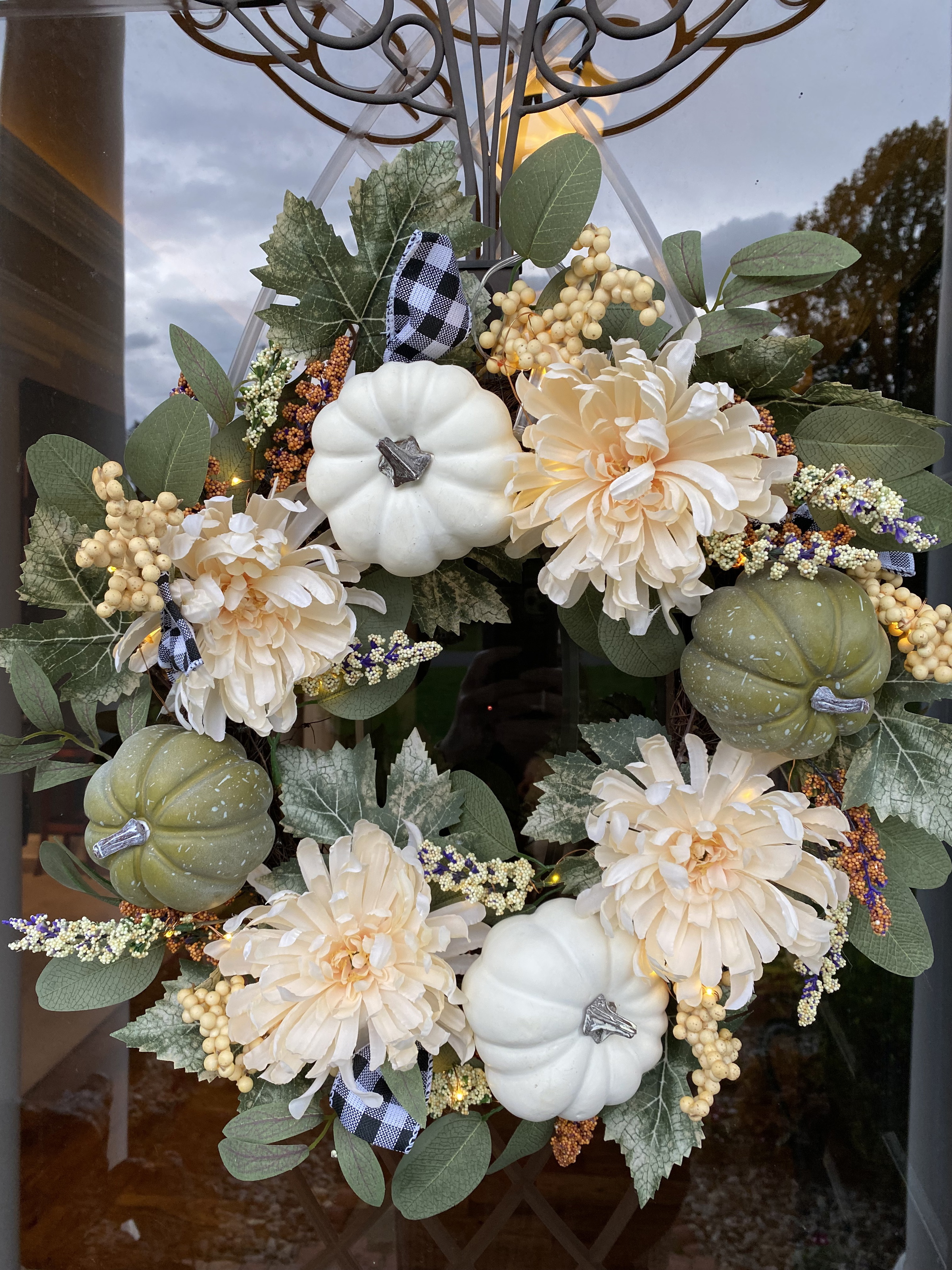 Written by:
Audra Hicks ~ REALTOR, ABR, e-PRO, SRES, PSA, AHWD, RENE, HFR
Stewie says, "Mom puts the REAL in Real Estate!"
2021, 2022 Ambassador - Bluegrass Yacht & Country Club
2021 President - Women's Council of REALTORS - Sumner County

2020 President Elect - Women's Council of REALTORS - Sumner County
2020 Professional Development Committee Member - Sumner Association of REALTORS
2019 Hospitality Committee Member - Women's Council of REALTORS - Sumner County
2019 Education Committee Member - Sumner Association of REALTORS
Multimillion Dollar Producer
Platinum Award Winner - Sumner Association of REALTORS
Benchmark Realty, LLC
131 Saundersville Rd, Ste 130
Hendersonville, TN 37075
Cell - 615-859-1748
Office - 615-991-4949
#land #luxurylisting #homesearch #realestate #realtor #realtorlife #realestateagent #realtoring #realtorsofinstagram #listingagent #buyahome #realtorlifestyle #yourrealtor #homebuyers #homebuying #buyingahome #realestatelife #sellersagent #buyersagent #dreamhome #houseforsale #justlisted #forsale #dreamhomes #homesofinstagram #sumnercountytn #listing #relocation #buyingahouse #homebuyers #realtorsofinstagram #househunting #bebetterbebenchmark #homeforsale #listing #landforsale